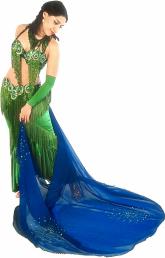 Styles of Dance

This page is an extensive list of different styles of Middle Eastern Dances (especially bellydance styles) and their offshoots.  This list is not and may never be complete due to the sheer volume of styles out there.  It does however provide you with a good starting point.  Although this area is under construction eventually each style will have a link to it's own page where you can read about the characteristics of each style, watch videos of dancers performing this style, and find resources like instruction and performance videos as well as articles and and other related resources that you may be interested in checking out for further research.  If there is a style that you are interested in learning about that is not listed here please let me know.  I will do my best to include it.  Please do not make requests for styles that are listed but not yet linked.

Eastern (Oriental) Styles and Dances


Iraq

Iran/Persia


Ghajar

Khaleeji/Khaleegi (of the Gulf region)


Khaleegi - Hair Dance

Levantine (of the Levant Region)


Jordanian


Lebanese



Oriental / Night Club / Cabaret




Classical




Modern



Debke


Syrian

Maghreebi (of the Maghreb region)


Algerian



Abdoui



Ouled Nail



Raqs Sharqi


Moroccan



Ahouache



Ahidous (Betrothal Dance)



Hadra



Houara



Shikaat



Raqs Sharqi



Guedra / T'bal


Tunisian



Sharbiya / Al-Juzur (Pot/Jar)



Raqs Sharqi



Stambali

North African


Egyptian



Assaya (Cane)



Bedouin/Hagallah



Beladi



Ghawazee



Melaya Leff



Raqs Sharqi / Oriental / Nightclub / Cabaret




Classical




Neo-Classical




Modern



Saidi



Sha'abi



Shamadan (Candelabra)



Tahtib



Tanoura



Zar


Lybian

Turkish


Kochek


Oryantal



Classical



Modern


Turkish Rom
Western (Occidental) Styles and Dances


American


Night Club/ Cabaret (AmCab)


Tribaret


Tribal Style (ATS)



Tribal Fusion


Fusion


Gothic


Industrial


Gypsy



Gypsy Fusion


Pharonic


Harem Fantasy
Other Styles and Dances


Greek


Tsiftitelli

Indian


Bhangra


Bollywood


Nautch?/Kitsch?
American Style Veil Dance